When we look at Yoga through the lens of intersectionality we must explore how Yoga studios and online platforms can create safe spaces for folks with physical disabilities and the LGBTQIA+ and QTBIPOC communities to be welcomed into. Representation is a big part of this equation and creating offerings where these communities are engaged and involved so they can feel safe, seen and heard.
Intersectionality offers yoga practitioners and the wider wellness community an opportunity to examine their own biases as well as the structural obstacles on a path forward to inclusivity and accessibility. While there has been increased discussion and action taken to address the overlapping and interrelated nature of race, gender & sexual orientation as well as socioeconomic status and class in recent years, there's been considerably less attention on ableism and disability rights in wellness spaces (and beyond).
And the truth is that this is also apparent in feminist spaces where intersectionality as a term and a praxis originated. As Cara Liebowitz wrote for The Body is Not An Apology, "Feminism must be intersectional or it's simply hypocritical. Disabled people are the world's largest minority, according to the UN, and it is certainly foolish to alienate a group that could be powerful partners in the quest for social justice."
As the blog post by Cara Liebowitiz reveals in its title, it's crucial to center disabled women in feminism to ensure that feminism is truly intersectional. In Disabilities Quarterly (v.34. No. 2, 2014), Alison Piepmeier, Amber Cantrell and Ashley Maggio wrote that disability is an urgent feminist issue. An authentic turn of attention to disability studies with conscious and clear actions to increase accessibility and inclusivity is an issue that wellness communities must also begin to increasingly prioritize. It is crucial to center disabled people in yoga and wellness if we're to utilize intersectionality as a lens and framework to increase diverse representation, accessibility and inclusivity.
Intersectionality requires work and introspection on the part of feminists who continue to ensure intersectionality includes divergent social locations across the spectrum of being human. It also requires increased awareness, education, and action on the part of wellness practitioners and leaders to ensure that we're truly living our values and commitment to our practice as a tool of liberation for all.
Dr. Theo Wildcroft of the Centre of Yoga Studies is a yoga teacher, trainer, writer and esteemed scholar. Her research considers the democratization of yoga post-lineage, and the many different ways yoga communities of practice are evolving. In a recent interview on the subject of intersectionality and wellness, Dr. Wildroft offers an additional layer to understanding intersectionality and disability. As she states, "And disability is intersectional – it impacts most those people who are already most disadvantaged. If you are poor, or black, or queer, or female, you are more likely to become disabled, and to have your suffering ignored. True accessibility is more than charity. It is an act of justice, and of healing – not of the disabled individual, but of the broken relationships between us."
And that's not what we always see (and yet what we have an opportunity to do)…
Cultural Appropriation Feeds Into Ableism
What do we see when you search #yoga on Instagram? A plethora of glossy photos of thin, able bodied white heteronormative women in acrobatic postures. This has actually got nothing to do with Yoga. Meditation is in fact one of the key limbs of Yoga, not the advanced asana postures that have become so popularized and feed into individualism and ego consciousness which is the antithesis of Yogic philosophy.
Yoga teachers have popularized the statements "we are all one" and "sending love and light" but unless we actually take actions to make this a reality, they are simply empty slogans and a part of spiritual bypassing which causes direct harm by dismissing the discrimination of those who are marginalized and have disabilities. Yoga is, in fact, social justice and disability justice and incredibly relevant to these times. Burning incense and chanting OM is not enough and never has been. The cultural appropriation of yoga is rampant, and most people have no idea what the essence of yoga is really about, which is a huge part of the problem. This feeds into the narrative of thin, able bodied white women consistently platformed in mainstream Yoga and wellness with everyone else being excluded.
When we look at Yoga through the lens of intersectionality we must explore how Yoga studios and online platforms can create safe spaces for folks with physical disabilities and the LGBTQIA+ and QTBIPOC communities to be welcomed into. Representation is a big part of this equation and creating offerings where these communities are engaged and involved so they can feel safe, seen and heard.
Jivana Heyman, part of the LGBTQIA+ community and Founder of Accessible Yoga @accessibleyoga whose background is in AIDS activism in the 1990's understands and embraces that intersectionality is pivotal when it comes to Yoga. Jivana started teaching yoga so that he could share these practices with his community of people with HIV and AIDS. When Jivana began this work the USA was in the middle of an AIDS epidemic, and many of his students were extremely sick and dying. What he and his students learned together was that yoga offered accessible and powerful tools for healing on a deep mental, emotional, and spiritual level. Jivana shares that his students showed him that yoga could offer them healing even when they were dying.
Jivana says, "When we overly simplify yoga to just be about the poses, we strip it of its most essential meaning. We appropriate the practice from its traditional roots in India and turn it into a commodity to be sold by capitalist interests. So the issue is more than just one of respect and care for continuing the ancient legacy of the yoga lineage. It's about holding these precious teachings in a way that respects their purpose, their background, and their proper application. In order to do so, we need to consider the fullness of the practice. The essential teaching of yoga is that we all share the same spiritual essence no matter what our backgrounds or ability may be. We share the same essence whether we have a disability, whether we have a larger body, or if we're a senior, or a child. We have got to let go of this idea of advanced asana equaling advanced yoga. There really is no correlation between our physical ability and the depth of our spiritual connection. This is why I always say that if it's not accessible it's not yoga. Because we all have equal access to the heart of yoga, and it's up to each of us to find a form for our practice that allows us to unite with the spirit within."
Utilizing an intersectional framework to expand our lens, challenge and change the ways that not only we think and operate, but the way the yoga culture and yoga industry thinks and operates, we have the ability and power to re-create what currently exists into something that truly is yoga.
In closing, as stated by Dr. Tho Wildcroft, "Yoga is a toolkit for liberation, that has too often been appropriated both for oppression, and for well-meaning disempowerment. To heal we need agency over our own choices, to create individualised strategies, to gather personalised resources, for self-regulating our nervous systems, with time and space to integrate them."
NOTE: This post is part of a collaborative media series organized and curated by Omstars in collaboration with the Yoga & Body Image Coalition and WOC + Wellness intended as an honest, thoughtful and holistic exploration of intersectionality, wellness and sustainable action with the intention of creating sustainable social change.
Meet the authors: Anusha Wijeyakumar and Melanie Klein
Anusha Wijeyakumar is the daughter of Sri Lankan immigrant parents. Being raised in the philosophy of Sanatana Dharma and a lifelong student of Hinduism and Buddhism, she has a vast knowledge in both. Anusha is also knowledgeable in the areas of meditation, pranayama, mantra, and the philosophy associated with yoga. Anusha is very passionate about honouring the roots of yoga and educating people on the importance of decolonizing these practices. Anusha is a sought after motivational speaker around the world on the science of mindfulness and meditation. Anusha is also the Wellness Consultant for Hoag Hospital in Orange County, CA where she is actively engaged on championing mindfulness and meditation practices for maternal mental health programs, early risk assessment for breast & ovarian cancer prevention programs and breast cancer survivorship programs. Anusha is one of the first people to create a meditation program to be used in clinical research at Hoag Hospital. Anusha has over 15 years of international senior management experience working for Fortune 50, 100, and 500 global corporations, charitable organizations & private companies in three continents. Womxn's health and social justice is at the heart of all that Anusha is involved with. Anusha is on the Board of Directors for the non-profit MOMS Orange County and is very engaged in working with inner city communities to bring the power of yoga for a healthy mind, body and spirit into these localities to nurture and empower change from within. Anusha recently co-founded the movement Womxn of Color + Wellness @wocandwellness which is focused on decolonizing wellness and making yoga and wellness more equitable, accessible, diverse and inclusive. Anusha's first book Meditation With Intention: Quick & Easy Ways to Create Lasting Peace will be released in January 2021 by Llewellyn Worldwide.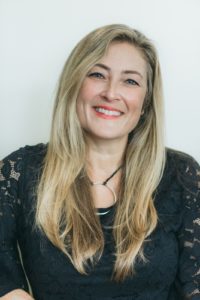 Melanie Klein, M.A., is an empowerment coach, thought leader and influencer in the areas of body confidence, authentic empowerment, and visibility. She is also a successful writer, speaker, and professor of Sociology and Women's Studies. Her areas of interest and specialty include media literacy education, body image, and the intersectional analysis of systems of power and privilege. She is the co-editor of Yoga and Body Image: 25 Personal Stories About Beauty, Bravery + Loving Your Body (Llewellyn, 2014) with Anna Guest-Jelley, a contributor in 21st Century Yoga: Culture, Politics and Practice (Horton & Harvey, 2012), is featured in Conversations with Modern Yogis (Shroff, 2014), a featured writer in Llewellyn's Complete Book of Mindful Living (Llewellyn, 2016), co-editor of Yoga, the Body and Embodied Social Change: An Intersectional Feminist Analysis with Dr. Beth Berila and Dr. Chelsea Jackson Roberts (Rowman and Littlefield, 2016) as well as the editor of the new anthology, Yoga Rising: 30 Empowering Stories from Yoga Renegades for Every Body. She co-founded the Yoga and Body Image Coalition in 2014 and is the co-founder of The Joy Revolution. She has been practicing yoga and meditation since 1996 and currently lives in Santa Monica, CA.
Connect: melaniecklein.com, ybicoalition.com, yogaandbodyimage.org, yogarisingbook.com
Photo by Anna Shvets from Pexels