Last year, Omstars teamed up with Sahara Rose and Bhakti Chai for the #EatLikeAYogi challenge. Through this challenge, we had a goal to raise funds for the non-profit organization, OneProsper, in effort to help them support young girls living in the Thar Desert of India. We are pleased to announce that through this incredible challenge, we were able to raise a total of $5,000 for OneProsper, which enabled them to sponsor 10 girls living in the Thar Desert of India.
By March 2019, these girls will start attending school rather than walking 5-7 hours per day to collect water. This is an amazing feat, and we couldn't have done it without the support of our amazing community of yogis. Thank you so much for your helping us achieve this goal!
One of the girls sponsored by OneProper is called Gita. At the beginning of the program, back in August of 2017, Gita would accompany her mother in walking hours each day in the searing desert heat to collect water.  Gita and her siblings frequently faced stomach pains as a result of drinking dirty water.  Together, this family lived in a basic shelter made from tree branches and four poles.  Most importantly, Gita was not able to attend school because she was busy helping her mother to collect water and complete chores.
Thanks to your support, OneProsper has built a rainwater harvesting tank with a bio sand filter for Gita's family.  Gita received a bicycle, school supplies and tuition to attend school. OneProsper provided Gita's mother with seeds and training to grow crops for nutrition and income.
Today, Gita's life is filled with books.  She attends school on a daily basis thanks to a brand-new rainwater harvesting tank and bio sand filter. Free from walking hours to collect water, Gita's mother has found work and is building a new home made of bricks. What a wonderful accomplishment for this beautiful family. We are so honored to have had the opportunity to support Gita and her family, plus the 9 others just like them.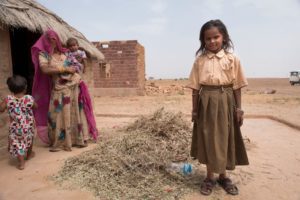 Unfortunately, this work is not over yet. There are countless other families out there, just like Gita's, who need our support. Knowing this, Omstars has plans to team up with OneProsper for another challenge at some point this year. Stay tuned.
By Alex Wilson &  Raju Agarwal