"Eating disorders are serious mental illnesses;
they are not a lifestyle choice, or a diet gone 'too far'."
-National Eating Disorders Collaboration
When I was diagnosed with an eating disorder in the 90's, there was not as much awareness of these mental illnesses as there are now. After I went to treatment in college and learned about how eating disorder symptoms are a way to cope with painful feelings, I remember feeling so relieved, because I was worried that my preoccupation with losing weight made me shallow.
I too had fallen into the trap of believing common stereotypes about eating disorders: that they are related to vanity, that they are just about controlling my food and body, and that I just had to eat and get over it. Over 20 years now on my healing journey, I still hear these rumblings about eating disorders from those who may have not had a reason to understand or learn about them. In the spirit of debunking these and other stereotypes about eating disorders, I offer some helpful education and resources.
WHAT ARE EATING DISORDERS?
Eating disorders are serious but treatable mental illnesses caused by a range of biological, psychological, and sociocultural factors. Eating disorders have the highest mortality rate of any psychiatric illness, and suicide is also common. In order to recover, individuals who are affected usually require professional help and support.
According to the National Eating Disorders Association, 20 million women and 10 million men in America will have an eating disorder at some point in their lives. Characterized by an obsessive preoccupation with weight, food, and body shape, eating disorders are associated with persistent eating behaviors that negatively affects one's physical, mental, emotional, and spiritual health.
The Diagnostic and Statistical Manual of Mental Disorders (DSM-5) identifies five types of eating disorders: anorexia nervosa, bulimia nervosa, avoidant restrictive food intake disorder (ARFID), binge eating disorder (BED), and other specified feeding and eating disorders (OSFED). Not yet in the DSM but on the rise is orthorexia, which is characterized by an obsession with eating only healthy foods.
Other types of eating disorders include pica, and rumination disorder. Symptoms associated with these disorders, such as restricting food and/or food groups, bingeing, purging, abusing laxatives, and over exercising, are ways of coping with trauma and other painful feelings and life events.
Individuals affected by eating disorders are also prone to severely negative body image and body dysmorphia, a mental health disorder in which characterized by obsessively thinking about one or more perceived defects or flaws in one's appearance. Co-morbid conditions include depression, anxiety, mood disorders, post-traumatic stress disorder, obsessive compulsive disorder, and addiction.
Common medical complications include but are not limited to blood pressure issues, electrolyte imbalances, reduction of bone density, muscles loss and weakness, severe dehydration, fainting, fatigue, hair loss, dental issues, hair loss, dry skin, digestive problems, circulation problems, and hormonal imbalances.
WHO IS AFFECTED?
Only until recently, has the popularly held image as to who is affected and what an eating disorder looks like—emaciated, white, privileged adolescent girls—this mental illness affects every age, sex, gender, race, ethnicity, and socioeconomic group.
Knowing that eating disorders are characterized with a preoccupation with food and weight, it may seem counter-intuitive, but what is so important to understand is that weight is not a clear sign of an eating disorder. We typically think of eating disorders in terms of extreme thinness, but that is not the case for many who are affected. In fact, one can have anorexia, an eating disorder characterized by food restriction, without being underweight. Other eating disorders can present with various weights, too.
The mental processes associated with eating disorder behaviors and physical ramifications (which include much more than weight), all contribute to the diagnosis of an eating disorder. One size does not fit all and includes every age, sex, gender, race, ethnicity, and socioeconomic group—a fact the eating disorder community is working hard to raise social awareness of.
HOPE IS REAL
As the awareness of eating disorders continues to increase in our schools, among parents, and in the medical field, we are in a much better position to prevent eating disorders compared to when I was first diagnosed in the 90s. Treatment options are many, and include residential, partial hospitalization, intensive outpatient, and outpatient. Many treatment centers focus specifically on eating disorders, and some addiction treatment centers also specialize in eating disorders, as these two mental health conditions often co-occur.
Online resources, such as the National Eating Disorder Association, Mirror-Mirror Eating Disorder Help, and Eating Disorder Hope are filled with helpful information for those experiencing an eating disorder as well as for their loved ones and supports. In addition to discussing the warning signs and symptoms of eating disorders, these websites also provide invaluable information about eating disorder programs and treatment, screening tools, free and low cost support, help hotlines, and advice on how to talk with loved ones who you are concerned about.
Whether you are experiencing an eating disorder or worried about someone in your life, hope is real. I urge you to consult online resources like the ones mentioned here and reach out to eating disorder support groups—you don't have to go it alone. Connecting with others going through something similar just might be the key to taking the next step in your journey.
By Jennifer Kreatsoulas, PhD, C-IAYT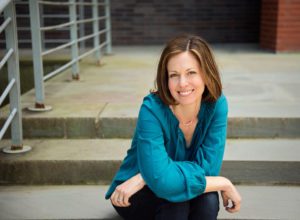 Jennifer Kreatsoulas, PhD, E-RYT 500, C-IAYT, is a certified yoga therapist specializing in eating disorders and body image. She is the founder of Yoga for Eating Disorders, creator and host of Real Body Talk, author of Body Mindful Yoga, an international speaker, and mental health advocate. Jennifer provides yoga therapy via online and in person, and leads yoga therapy groups at Monte Nido Eating Disorder Center of Philadelphia. She also teaches workshops, retreats, and specialized yoga and eating disorder recovery trainings for professionals. Her writing about her personal journey of eating disorder recovery and professional experience as a passionate yoga therapist has appeared in Yoga International, Yoga Journal, Recovery Warriors, and other influential blogs. Jennifer has appeared on Fox29 news and has been featured in the Huffington Post, Real Woman Magazine, SJ Magazine, Medill Reports Chicago, Philly.com, YOGA Magazine, and on several podcasts. Connect with Jennifer: www.Yoga4EatingDisorders.com and www.JenniferKreatsoulas.com.
Photo Credit: White Flower Bloom by Aaron Burden