Intersectionality is the path forward and the future of wellness so we can be more inclusive of all marginalized voices and experiences. Intersectionality allows us to examine the truth in a holistic way without giving in to denial, a distortion of reality, or leaning out of the conversation due to guilt or shame.
We are all one, yet we are not the same.
We may be one in our shared humanity, but the details of that human experience are incredibly different, especially for BIWOC and QTBIPOC. We need to stop pretending that this isn't true and overlooking the historical and contemporary evidence that indicates and affirms this truth.
Let's stop glossing over the distinct contributions and the unique issues and concerns facing the many members of our local and global society who face racism, sexism, gender bias, classism, homophobia, transphobia, and many other factors that continue to feed into oppression and inequality.
This is the truth of our collective experiences and can be the source of our individual and collective strength. Once we do, we have the opportunity to commune, cultivate solidarity, consciously support one another authentically and with a sense of integrity, collectively heal, and use our position, influence, and voice to advocate and activate powerful change.
Perhaps you have experienced challenges, obstacles, and systematic oppression yourself.
This is real and it's worthy of acknowledgment.
But we want to offer you the gentle but firm nudge to look beyond your immediate experiences and see those around you. Acknowledge how you may share similar experiences while simultaneously differ in one or more ways.
We want to encourage you all to hold the bigger picture in your hands and take action from that place. To do so, it's important that you can acknowledge the ways you may experience one or more forms of privilege while experiencing one or more forms of oppression. We are not defined by our gender or race alone. We're multidimensional beings and we occupy multiple what sociologists call "social locations."
Yet it's common for people to overlook that and center or "foreground" the ways in which they may experience oppression while overlooking the various forms of privilege in their lives. Many white womxn during the 1960s and 1970s centered on the fact that they had experienced sexism and sexist oppression while ignoring or overlooking the ways in which they experienced white skin privilege. In this way, they centered or foregrounded their sex. At the same time, many black men centered or foregrounded the racism and racist oppression they'd experienced while not taking stock of their male privilege. Both the sexism and racism were real, yet so was the white skin and male privilege respectively.
We may share a specific identity or social location with others, yet we also differ in our experiences, opportunities, and concerns. For example, not all womxn share a universal or monolithic experience with other womxn simply because they're womxn living within a patriarchal or male-dominated system. Nor do all men share a one-dimensional experience with other men. It's possible to experience sexism and benefit from racism. It's possible to experience racism but experience heteronormative or class privilege. It's possible to experience homophobia but benefit from sexism or ageism.
We must consider the myriad ways we intersect, overlap, and diverge from one another. We must consider the various forms of privilege (or unseen and taken-for-granted) advantages we may have by virtue of the social locations we occupy. It's important to acknowledge the well of resources we have access to based on our position within any social location. Do we occupy the dominant or subordinate category when it comes to sex, sexual orientation, gender identity, race, ethnicity, religion, age, size, class, and physical dis/ability?
Just as important as it is to shine a light on the ways we're oppressed or challenged, we must take stock of the ways in which we're privileged and not assume others that share a social location with us have identical experiences, challenges, or needs.
This is "intersectionality" as a concept and a practice.
What is Intersectionality?
Black feminists have been speaking to these varied and overlapping differences since the late 1960s. bell hooks has referred to it as the "matrix of domination" and Audre Lorde spoke to the concept of "the mythical norm." The more commonly used term "intersectionality" was first coined by Kimberlé Williams Crenshaw in 1989. She used this term as a metaphor to specifically explore the multiple forms of oppression experienced by black women given that most antiracist and traditional feminist ideas excluded them in positions of leadership and beyond.
As Crenshaw explains, "Intersectionality was a prism to bring to light dynamics within discrimination law that weren't being appreciated by the courts. In particular, courts seem to think that race discrimination was what happened to all black people across gender and sex discrimination was what happened to all women, and if that is your framework, of course, what happens to black women and other women of color is going to be difficult to see."
Wellness must also be explored through the lens of intersectionality to find ways of dismantling the multiple systems of oppression and supremacy that feed inequity in yoga and beyond.
Intersectionality is a theoretical framework and mode of analysis and understanding that considers multiple social locations as factors in one's experience of oppression and/or privilege. Rather than only considering one axis of analysis or one social location such as race or gender, an intersectional lens considers the relationship and intersection of multiple social locations in shaping our world view and our experiences.
It also recognizes the fact that while people may share one social location, such as sexual orientation or age, there are variations within that experience based on additional factors.
We must not try to diminish or ignore the power and truth in our differences.
Our Yoga practice offers us the tools through Svadhyaya self-study one of the Niyamas our personal observances, second limb on Sage Patanjali's eight-limbed path of Yoga along with Viveka discrimination or discernment to go deeper in unpacking our own biases so we can unlearn and relearn. We must utilize both of these in order to dismantle so much of the harmful spiritual bypassing, cultural appropriation, sexual objectification, ableism, sizeism, ageism, and commodification of yoga practice as well as the concept of the "yoga body" that has occurred in Yoga in the west.
Intersectionality is the path forward and the future of wellness so we can be more inclusive of all marginalized voices and experiences. Intersectionality allows us to examine the truth in a holistic way without giving in to denial, a distortion of reality, or leaning out of the conversation due to guilt or shame. Intersectionality, like our lived yoga practices, allows us to step out of perceived and socially constructed binaries and hold the full spectrum of experience, range of emotions and move into conscious action to create social change. This is yoga in action.
Meet the authors: Anusha Wijeyakumar and Melanie Klein
Anusha Wijeyakumar is the daughter of Sri Lankan immigrant parents. Being raised in the philosophy of Sanatana Dharma and a lifelong student of Hinduism and Buddhism, she has a vast knowledge in both. Anusha is also knowledgeable in the areas of meditation, pranayama, mantra, and the philosophy associated with yoga. Anusha is very passionate about honouring the roots of yoga and educating people on the importance of decolonizing these practices. Anusha is a sought after motivational speaker around the world on the science of mindfulness and meditation. Anusha is also the Wellness Consultant for Hoag Hospital in Orange County, CA where she is actively engaged on championing mindfulness and meditation practices for maternal mental health programs, early risk assessment for breast & ovarian cancer prevention programs and breast cancer survivorship programs. Anusha is one of the first people to create a meditation program to be used in clinical research at Hoag Hospital. Anusha has over 15 years of international senior management experience working for Fortune 50, 100, and 500 global corporations, charitable organizations & private companies in three continents. Womxn's health and social justice is at the heart of all that Anusha is involved with. Anusha is on the Board of Directors for the non-profit MOMS Orange County and is very engaged in working with inner city communities to bring the power of yoga for a healthy mind, body and spirit into these localities to nurture and empower change from within. Anusha recently co-founded the movement Womxn of Color + Wellness @wocandwellness which is focused on decolonizing wellness and making yoga and wellness more equitable, accessible, diverse and inclusive. Anusha's first book Meditation With Intention: Quick & Easy Ways to Create Lasting Peace will be released in January 2021 by Llewellyn Worldwide.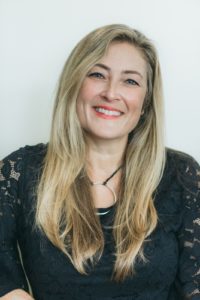 Melanie Klein, M.A., is an empowerment coach, thought leader and influencer in the areas of body confidence, authentic empowerment, and visibility. She is also a successful writer, speaker, and professor of Sociology and Women's Studies. Her areas of interest and specialty include media literacy education, body image, and the intersectional analysis of systems of power and privilege. She is the co-editor of Yoga and Body Image: 25 Personal Stories About Beauty, Bravery + Loving Your Body (Llewellyn, 2014) with Anna Guest-Jelley, a contributor in 21st Century Yoga: Culture, Politics and Practice (Horton & Harvey, 2012), is featured in Conversations with Modern Yogis (Shroff, 2014), a featured writer in Llewellyn's Complete Book of Mindful Living (Llewellyn, 2016), co-editor of Yoga, the Body and Embodied Social Change: An Intersectional Feminist Analysis with Dr. Beth Berila and Dr. Chelsea Jackson Roberts (Rowman and Littlefield, 2016) as well as the editor of the new anthology, Yoga Rising: 30 Empowering Stories from Yoga Renegades for Every Body. She co-founded the Yoga and Body Image Coalition in 2014 and is the co-founder of The Joy Revolution. She has been practicing yoga and meditation since 1996 and currently lives in Santa Monica, CA.
Connect: melaniecklein.com, ybicoalition.com, yogaandbodyimage.org, yogarisingbook.com
NOTE: This post is part of a collaborative media series organized and curated by Omstars in collaboration with the Yoga & Body Image Coalition and WOC + Wellness intended as an honest, thoughtful and holistic exploration of intersectionality, wellness and sustainable action with the intention of creating sustainable social change.