When you feel satisfied by a little hunk of "cheese" you'll to stick to your healthy eating or raw food diet without
feeling deprived.
Going on a detox does not mean you have to give up "cheese." In fact, the addition of raw vegan nut cheeses can give your salad a much needed protein boost and ward off hunger pangs with healthy fats. Summer is the perfect time to make cheeses, kimchi yogurt or any other fermented product. Just make sure you use a glass bowl and stay away from plastic or metal bowls because metal interferes with the fermentation and plastic can leach chemicals into your food and harbor germs.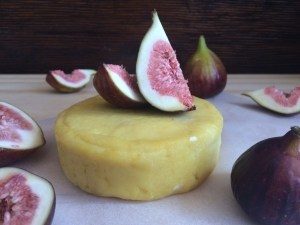 If it's Winter in your part of the world, then you can ferment your raw "cheese" in the oven with just the oven light on. This will provide enough warmth. Otherwise, those 30 degree summer days are perfect for letting the magic of fermentation happen right there on your kitchen bench. Many people use cheese cloth to squeeze out the extra moisture after blending the nuts. But with my method you won't need any of that messy stuff. Really I decided to make my cheeses this way because I didn't want my nut bag colored or flavored with the cheese as it fermented and released its water. I like my nut bag to remain clean for making my almond milk. Yes, I know there is washing and I could have a dedicated cheesecloth, but this works well enough for me. Don't be in a hurry when making this beautiful cheese. It's not labor intensive but it does require time. I usually wait two days until I think my cheese is 'ripe'. It's quite quick when you compare it to regular cheeses which take many months to years until they are considered 'ripe' enough to eat.
Ingredients
2 cups raw unsalted macadamia nuts
1 cup water
1 probiotic capsules
1 tsp maple syrup
2 tbs nutritional yeast
1 clove crushed garlic
1/2 tsp salt (Himalayan, Celtic or Maldon)
Method
Blend the nuts, water, nutritional yeast and probiotics in a blender for 2 minutes until smooth.
Transfer to a glass bowl and allow to ferment uncovered in a warm environment (bench or oven) for 12 hours.
Give it a mix every few hours because the moisture is also evaporating and the cheese drying.
Add the garlic, salt and mix until evenly combined. I don't add the garlic and salt earlier because it can interfere with fermentation.
If you have the time, allow it to ferment and dry out for a few more hours.
Line a ramekin or a small spring form tin with plastic wrap or baking paper. This will make it easier to remove from the mold.
Push the nut cheese mix into it and press down firmly.
Refrigerate uncovered for several hours until firm.
Remove from mold and allow to sit uncovered in the fridge on a plate over night so that the outside can dry and firm up the cheese. Flip for even drying on both sides.
Serve with a salad or fresh figs. Divine.
Try Natalie's zucchini crackers with this recipe
By Natalie Prigoone
Natalie Prigoone is the author of The Great Uncooking a raw food detox book and A Piece of Cake: Easy Raw Desserts. She is a yoga teacher, high school teacher and raw food chef. Natalie discovered raw foods and their healing magic in 2011. She is passionate about healthy life hacks, and creating recipes that lead to greater health and healing. Follow her on Instagram @thegreatuncooking or Facebook.