"Beloved community is formed not by the eradication of difference but by its affirmation, by each of us claiming the identities and cultural legacies that shape who we are and how we live in the world." – bell hooks
If systemic oppression is intersectional then wellness should be too. Meet Melanie Klein @melmelklein Co-Founder of the Yoga and Body Image Coalition @ybicoalition and Anusha Wijeyakumar @shantiwithin Co-Creator of Womxn of Color + Wellness @wocandwellness who will be taking you through a series devoted to how we can apply an intersectional lens to our understanding and experience of the world and, more importantly, move into sacred and conscious action.
The true change happens when we move beyond empty allyship to sustainable activism.
Through this blog and chat series, we intend to hold space for this deep work with compassion, support and a commitment to community solidarity and uplift. Our aim is to create a thoughtful, nuanced and well – rounded series that will offer insight, guidance and tools to mindfully and effectively navigate the inner and outer work.
Consider this a kind of community re- education, a journey of self-discovery and community building.
We invite you to join us on this journey to transform your yoga practice from the inside out….and compel you into meaningful, authentic and sustainable action. We are certainly not claiming to have all of the answers but want to share our own personal perspectives, expertise and accumulated knowledge that we hope can start to ignite wider conversation around these important issues.
Our goal is to build an inclusive community for dialogue, introspection and direct action. Together we can make a difference and focus on sustainable ways to create change on and off our mats, change that happens within our own hearts and minds as well as the collective.
Open your heart and listen with discernment, deeply deeply listen.
Breathe and pause when you're pushed out of your comfort zone.
Reflect before you challenge (or discount) the information presented or question anyone else's experiences or comments.
Check in with your intention to share before posting your comments, stories and experiences.
Recognize the humanity and value in everyone.
Continue to cultivate mindfulness on and off the mat or cushion.
Allow your practice and this conversation to grow your heart and move you into action.
Show up and do the work. Over and over. Over and over again.
Real inclusivity and movement building means willingness to have difficult conversations and hold each other in a space of vulnerability, tolerance and kindness.
Are you ready?
Meet the authors: Anusha Wijeyakumar and Melanie Klein
Anusha Wijeyakumar is the daughter of Sri Lankan immigrant parents. Being raised in the philosophy of Sanatana Dharma and a lifelong student of Hinduism and Buddhism, she has a vast knowledge in both. Anusha is also knowledgeable in the areas of meditation, pranayama, mantra, and the philosophy associated with yoga. Anusha is very passionate about honouring the roots of yoga and educating people on the importance of decolonizing these practices. Anusha is a sought after motivational speaker around the world on the science of mindfulness and meditation. Anusha is also the Wellness Consultant for Hoag Hospital in Orange County, CA where she is actively engaged on championing mindfulness and meditation practices for maternal mental health programs, early risk assessment for breast & ovarian cancer prevention programs and breast cancer survivorship programs. Anusha is one of the first people to create a meditation program to be used in clinical research at Hoag Hospital. Anusha has over 15 years of international senior management experience working for Fortune 50, 100, and 500 global corporations, charitable organizations & private companies in three continents. Womxn's health and social justice is at the heart of all that Anusha is involved with. Anusha is on the Board of Directors for the non-profit MOMS Orange County and is very engaged in working with inner city communities to bring the power of yoga for a healthy mind, body and spirit into these localities to nurture and empower change from within. Anusha recently co-founded the movement Womxn of Color + Wellness @wocandwellness which is focused on decolonizing wellness and making yoga and wellness more equitable, accessible, diverse and inclusive. Anusha's first book Meditation With Intention: Quick & Easy Ways to Create Lasting Peace will be released in January 2021 by Llewellyn Worldwide.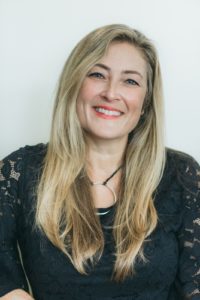 Melanie Klein, M.A., is an empowerment coach, thought leader and influencer in the areas of body confidence, authentic empowerment, and visibility. She is also a successful writer, speaker, and professor of Sociology and Women's Studies. Her areas of interest and specialty include media literacy education, body image, and the intersectional analysis of systems of power and privilege. She is the co-editor of Yoga and Body Image: 25 Personal Stories About Beauty, Bravery + Loving Your Body (Llewellyn, 2014) with Anna Guest-Jelley, a contributor in 21st Century Yoga: Culture, Politics and Practice (Horton & Harvey, 2012), is featured in Conversations with Modern Yogis (Shroff, 2014), a featured writer in Llewellyn's Complete Book of Mindful Living (Llewellyn, 2016), co-editor of Yoga, the Body and Embodied Social Change: An Intersectional Feminist Analysis with Dr. Beth Berila and Dr. Chelsea Jackson Roberts (Rowman and Littlefield, 2016) as well as the editor of the new anthology, Yoga Rising: 30 Empowering Stories from Yoga Renegades for Every Body. She co-founded the Yoga and Body Image Coalition in 2014 and is the co-founder of The Joy Revolution. She has been practicing yoga and meditation since 1996 and currently lives in Santa Monica, CA.
Connect: melaniecklein.com, ybicoalition.com, yogaandbodyimage.org, yogarisingbook.com
NOTE: This post is part of a collaborative media series organized and curated by Omstars in collaboration with the Yoga & Body Image Coalition and WOC + Wellness intended as an honest, thoughtful and holistic exploration of intersectionality, wellness and sustainable action with the intention of creating sustainable social change.
Blog Header Photo by Anna Shvets from Pexels