Yoga transformed my life and my relationship with my body. Before yoga, I thought the only way to feel good in my body was through intense physical exercise. Finding yoga taught me that stillness offers a deeper connection. The mind-body connection of yoga transformed my life. But this wasn't always the case.
When I was a child, my body was my instrument. I was an athlete, lifeguard, cheerleader, drill team dancer/choreographer, and avid skateboard enthusiast. I thrived on being physically active. It fed my sense of self. In fact, my physical agility drove my dream of wanting to become a dancer/choreographer on Broadway.
Everything changed when I was 19 years old. I survived a devastating car accident, where I was diagnosed with a spinal cord injury and told I wouldn't walk again. The news shattered my confidence and complicated my relationship with my body. It felt like I had two lives: life before and after the accident. After a year and half of intense physical therapy, and a miracle, I was able to walk again with the aid of below the knee plastic braces but my journey to self returned in bits and pieces.
I felt broken after the accident. I disconnected from my body and developed a fear of visibility. I didn't want to be seen as disabled because I didn't want others to limit my options. I brushed away help and ignored my physical limitations. The result: I lived in a deep sense of shame for being injured and didn't know how to reclaim my life.
On the outside, it looked like I recovered. I returned to college and slowly began sharing parts of my journey with a select few. But the truth was, I was fragile and wounded. I felt insecure when people stared at my limp. Sometimes I body shamed myself and clung to old mindsets that kept my world small. I kept hearing doctor advice in my head that warned that too much activity could erase progress. I now know that doctors were trying to protect me but, in reality, it instilled fear.
First seismic shift in changing this mindset occurred a few years after the accident. I enrolled in my college's Study French Abroad Summer Program in Strasbourg, Germany. Many thought I wasn't up the challenge.
"How will you manage on your own?" friends and family cautioned. "Europe isn't accessible – what if you need help?"
I admit I was scared but I trusted my inner voice. Therefore, I ignored concerns, quieted naysayers, and after asking my Dad for a small loan, my plans proceeded.
Everything was on track until I met my study abroad professor. Initially, our phone conversation brought hope but my enthusiasm waned after meeting face-to-face.
I noticed her expression as I walked in. Her eyes fixated on my limp. When, she realized I had caught her gawking, she quickly looked away to avoid eye contact. Even though this interaction was only a few seconds, it trigged rage. Somewhere in my being I wanted to confront her – and stand in my power – I wanted to speak truth to the moment and share hurt feelings. Instead, I shrunk down and squelched my voice to avoid embarrassment.
Before the trip, many warned that French people hated Americans – but that wasn't my experience. I bumbled French conversations with waiters and strangers – but never felt judged. I loved walking the streets of Strasbourg alone. Everywhere I went, I received hugs and smiles. I felt accepted for the first time. It boosted my confidence.
My bubble burst a few weeks later when my professor suggested I separate from the group and take a car ride instead of participating in a group walk through Strasbourg.
"We're on a strict schedule and we don't have time to wait for you to walk the distance," my professor said in front of everyone.
"I know my stride is slow but I'm completely capable," I protested, arguing for inclusion.
As our conversation grew, I eventually gave in to keep peace. But the opportunity to be real passed. I felt shame for being different but didn't share because I wanted to belong. Staying silent seemed easier. This encounter taught me a piece of what I needed to embrace. Even though my professor didn't see me or understand how her actions affected me, it didn't help that I kept my pain to myself. I've learned that I need to speak up to be heard. Stepping into vulnerability is now my super power.
It's funny how life begs us to speak truth in moments of confusion. Looking back, I wasn't ready to face who I was or stand in my own power. Keeping silent was self protection. I was in denial. When I found yoga, I found renewal. Reconnecting mind and body made me feel like a pioneer. For me, doing yoga feeds my entire vessel: mind, body, and spirit. It instills a deep sense of calm in place of fear. It allows me to embrace vulnerability and everything in between. Before yoga, I let doctors dictate how I lived and felt in my body. Discovering yoga led to embracing all parts of myself. Once I truly accepted my body in present and past forms, my world opened.
As an adaptive chair yoga teacher and mindfulness coach, I now teach others how to embrace their whole body and accept themselves in any form. Even though we're all on different paths, my journey to yoga revealed self-acceptance, hope, and purpose. I'm grateful for life experience that uncovered this truth. Yoga taught me that being vulnerable is worth the risk. And the truth is, yoga is not for a select group or the able bodied few. Yoga is for everyone, no matter size, shape, or physical challenge.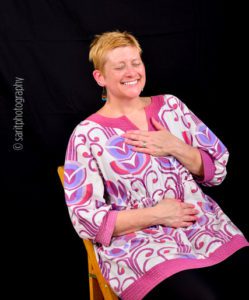 Mary Higgs, MA, is a respected writer, online educator, speaker, mindfulness coach, and disability advocate. Developing a passion for mindfulness and becoming an Adaptive and Accessible Yoga Teacher transformed Mary's life in unexpected ways. She loves sharing her message that transformation comes from within. She has published pieces in Yoga International, Devata Active, Yoga and Body Image Coalition, and Mind Body Solutions All-Humanity Newsletter. As a RYT, OYI, and certified Yoga for All and Accessible Yoga Teacher, Mary teaches people to explore and trust their inner wisdom, so they can live more authentically. Visit her online at YogiAble.com.
NOTE: This post is part of a collaborative media series organized and curated by Omstars and the Yoga & Body Image Coalition intended as a deep dive into yoga & body image.