"Beloved community is formed not by the eradication of difference but by its affirmation, by each of us claiming the identities and cultural legacies that shape who we are and how we live in the world." – bell hooks
Conscious listening, compassion, and love.
It is in the spirit of building sacred community through conscious listening, compassion and love that this blog series was created. Our intention is to educate, demystify misconceptions, smash stereotypes and offer new perspectives on body image as it intersects with our race and ethnicity, our gender identity and sexual orientation, our socioeconomic class, age, size and dis/ability. In short, our intention is to raise consciousness and create bridges in understanding.
Social change requires more than awareness.
It is our hope that through raised consciousness, more and more of us will be moved into mindful action. Because social change requires more than awareness… it requires awareness plus action. And raising consciousness and living consciously are at the heart of mindfulness practices. This where the real work begins for us. Off the mat. Off the meditation cushion.
A gift in the form of an opportunity.
Each writer in this series weaves personal narrative with years of experience, research and professional expertise. The words may move you to tears, bring you a sigh of relief or comfort… or they may make you angry. Or maybe the words simply make you uncomfortable or challenge a long-held belief. Whatever arises, it's a gift in the form of an opportunity.
Practice, listen, learn, and grow.
It's an opportunity to practice, listen, learn and grow. It may also be an opportunity to detect and identify internalized and unexamined prejudice or bias in our heart. This space is an opportunity to do the work as a collective. Because we must also work mindfully in community to elevate the collective vibration of society.  Here are a few ways to practice this intention of identifying (and obliterating) prejudice and bias as well as working as allies and comrades in solidarity and love.
Examine your own privilege.
This may be challenging, if not painful, and may induce feelings of shame or guilt but this is a necessary step. Meditate on how YOU benefit from the existing power structures that are sexist, racist, able-ist, size-ist, classist, heteronormative and ageist.
Be an ally by opening your heart and listening.
Breathe and pause when you're moved out of your comfort zone.
Reflect before you challenge the information presented or comment on it publicly.
Do the work. Allow your increased awareness to move you into action, however that may play out for you.
Ask yourself how you can contribute to an accessible, welcoming space for all without tokenizing anyone.
Recognize the humanity in everyone.
Identify how your experience connects you to others and how it differs.
Practice on and off the mat. Cultivate mindfulness on and off the cushion.
Allow your practice to grow your heart, make you vulnerable and willing to work actively as a member of a wider community.
We all benefit from this process. Mindfulness, specifically the practice of yoga, has the potential to create both personal and social transformation. The practice of yoga has the potential to elevate us to our highest good and create equity for all. I invite you to read what is offered in this series in that spirit of connection and collective liberation. Seize the opportunity to expand your capacity for compassion, empathy and love.
NOTE: This post is part of a collaborative media series organized and curated by Omstars and the Yoga & Body Image Coalition intended as a deep dive into yoga & body image. Be sure to read the first post in the series here.
By Melanie Klein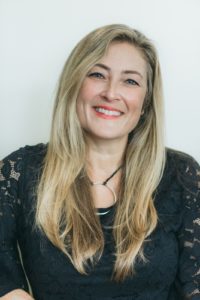 Melanie C. Klein, M.A., is an empowerment coach, thought leader and influencer in the areas of body confidence, authentic empowerment, and visibility. She is also a successful writer, speaker, and professor of Sociology and Women's Studies. Her areas of interest and specialty include media literacy education, body image, and the intersectional analysis of systems of power and privilege. She is the co-editor of Yoga and Body Image: 25 Personal Stories About Beauty, Bravery + Loving Your Body (Llewellyn, 2014) with Anna Guest-Jelley, a contributor in 21st Century Yoga: Culture, Politics and Practice (Horton & Harvey, 2012), is featured in Conversations with Modern Yogis (Shroff, 2014), a featured writer in Llewellyn's Complete Book of Mindful Living (Llewellyn, 2016), co-editor of Yoga, the Body and Embodied Social Change: An Intersectional Feminist Analysis with Dr. Beth Berila and Dr. Chelsea Jackson Roberts (Rowman and Littlefield, 2016) as well as the editor of the new anthology, Yoga Rising: 30 Empowering Stories from Yoga Renegades for Every Body. She co-founded the Yoga and Body Image Coalition in 2014 and is the co-founder of The Joy Revolution. She has been practicing yoga and meditation since 1996 and currently lives in Santa Monica, CA.
Photo credit: Sarit Z. Rogers